Back
Tuesday, February 6, 2018
Army Sergeant First Class Wade Mitcheltree Receives ELAN-Controlled Custom Smart Home from the Gary Sinise Foundation
Mitcheltree's new ELAN-controlled home is specially customized to help him regain his independence following the major injuries he sustained during active duty.
PETALUMA, CALIFORNIA — During his second tour in Afghanistan in 2012, U.S. Army SFC Wade Mitcheltree was severely injured by an IED, resulting in the loss of both his legs and his right arm below the elbow. When the Gary Sinise Foundation's R.I.S.E. program (Restoring Independence, Supporting Empowerment) learned of Mitcheltree's bravery, they awarded him a brand new specially adapted smart-home in Tigard, Oregon, that allows him to independently manage day-to-day tasks with ease.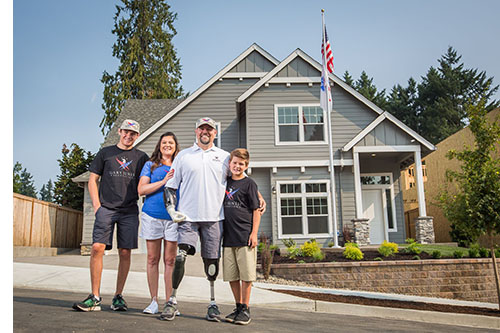 Randy Reagan of Quadrant Systems, the integration firm that managed the project' technology integration, knew that an ELAN Entertainment and Control System was the best smart home platform for Mitcheltree and his family. "ELAN is by far the most intuitive control system out there," Reagan said. "It's very simple for the homeowner to understand how to use it without having an expert show them. The icons are large, and the lighting controls are laid out on the touch panel the same way they are on the keypads on the wall. It's perfect for Wade, his wife, and his two sons."
Reagan built the home's system around an ELAN gSC10 controller, with an ELAN g1 for secondary control and an ELAN S86A for audio distribution. Multiple ELAN touch panels and remotes were integrated throughout the two-story residence so that the Mitcheltree family can access the platform from any room of the house at any time. With just the tap on a screen, the family can manage the home's audio, video, lighting, climate and security systems.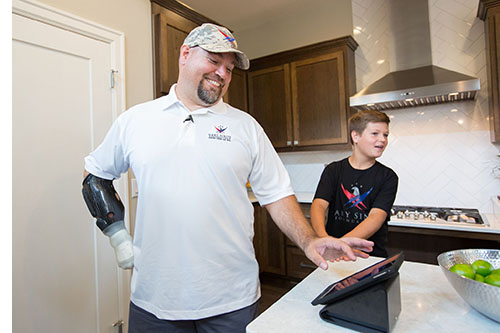 "Even if Wade is on the second floor, he can have full control over the whole house using any of the touch panels or his own iPad," said Reagan. "If someone rings the doorbell, he can easily see and talk to them through the ELAN Intercom, and even unlock the door. We set up 'away' and 'welcome' scenes on the ELAN system, so that he can easily configure the entire home with just the touch of a button."
For entertainment, Quadrant Systems also installed a robust multi-room audio system, which includes of SpeakerCraft in-ceiling speakers and Sunfire subwoofers. The entire system is easily controlled through the ELAN platform, so each member of the family can stream any music they choose throughout the whole house or just in one room. This versatility, along with the crystal-clear audio from SpeakerCraft and Sunfire, makes their new home the perfect place to entertain friends and family.
Reagan and his team also installed an impressive security system that Mitcheltree can arm and manage through both a physical keypad and the ELAN platform. It includes a complete and comprehensive DSC system, and is also connected to the motorized locks on the exterior doors. "Through ELAN, Wade and his wife can easily secure their house from their bed or anywhere in the world using their iPads," said Reagan. "This gives them an incredibly important peace-of-mind and an enhanced sense of security, which is especially important as they have children."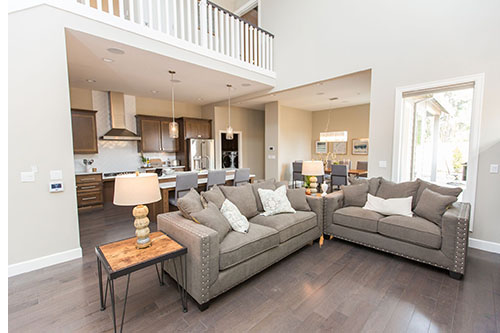 Judith Otter, Executive Director of the Gary Sinise Foundation, emphasized how important the customized features of the home were to Mitcheltree and his family. "They've been through a long and emotional journey working toward Wade's full recovery, and this home allows them to relax and worry less about daily tasks," Otter said. "The ELAN system is especially important for Wade, as it allows him nearly complete independence, which otherwise may not have been possible. We're grateful for the involvement of everyone behind the ELAN brand as we work to continue providing American heroes with a completely customized specially adapted smart home."
To watch a video of the home dedication, click here.
About ELAN
ELAN, now part of Nortek Security & Control, develops an award-winning line of whole-house entertainment and control solutions distributed through a comprehensive channel of select dealers throughout the United States, Canada, and countries worldwide. The ELAN 8 update was honored with the "2017 Human Interface Product of the Year" award and continues to expand its intuitive functionality.
About Nortek Security & Control
Nortek Security & Control LLC (NSC) is a global leader in smart connected devices and systems for residential, security, access control, and digital health markets. NSC and its partners have deployed more than 4 million connected systems and over 20 million security and home control sensors and peripherals. Through its family of brands including 2GIG®, ELAN®, GoControl®, Linear®, Mighty Mule® and Numera®, NSC designs solutions for national telecoms, big box retailers, OEM partners, service providers, security dealers and consumers.
Headquartered in Carlsbad, California, NSC is a subsidiary of Melrose Industries PLC, a global investment company specializing in acquisition and performance improvement. With over 50 years of innovation, NSC is dedicated to addressing the lifestyle and business needs of millions of customers every day. For further information, visit nortekcontrol.com.
Back