Back
Chicago Integrator Saves Failing Smart Home by Switching to ELAN Automation
New ELAN system adds control and simplicity for condo owners in famous Chicago high-rise.
CARLSBAD, CALIFORNIA — The Residences at Water Tower Place, a 40-story luxury condominium on Chicago's Magnificent Mile, is revered for its unspoiled views of Lake Michigan and neighboring Navy Pier. But for one condo owner, a troublesome and aging home automation system turned the would-be paradise into a frustrating mess of failed commands and lost connections. According to the custom integration experts at Chicago's Buchan Consulting, the solution was to replace the aging system with a new ELAN® Home Control System.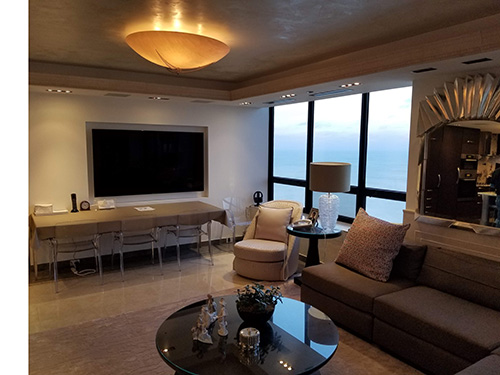 "Home automation is supposed to make life easier," said Doug Buchan, principal at Buchan Consulting. "That's really the whole point. So when a system starts to cause more problems than it solves, it can be extremely frustrating for the homeowners. In this case, it had gotten so bad that the owners had to physically unplug an amplifier to make the music turn off, their remotes would often fail to connect, and the thermostat control has stopped working. It was a mess."
The power and reliability of control systems, as well as homeowner's expectations, have changed dramatically in the last 10 years. Buchan knew the ELAN system would give his clients an easy-to-use system that provides all the functionality they need.
"Based on how the previous system was installed and arranged, it just made sense to replace the core components with ELAN," Buchan said. "The most important thing for this client was that the system just work, every time, every day, and we knew we'd deliver that with ELAN."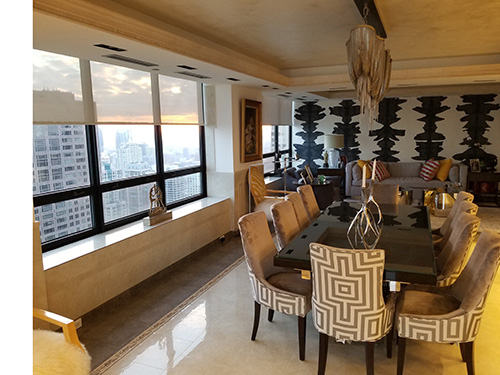 The installation itself, however, was anything but simple.
"We expected that there would be some issues with wire labeling and tracing to be able to swap to a newer ELAN system, but it turned out that there were a host of other issues as well," Buchan explained. "This residence has some of the worst wireless interference and congestion our team has ever seen. The condos all have powerful WiFi systems installed, as well a host of other electronics, and all those signals throughout the building caused interference that disrupted the remote control communications."
To overcome this difficult hurdle, Buchan's solution was to install multiple Luxul WiFi access points and switches to ensure consistent connections. He then added the ELAN HR30 remote, the newest ELAN handheld remote, and the paring overcame the storm of interference that had previously hampered control in the condo.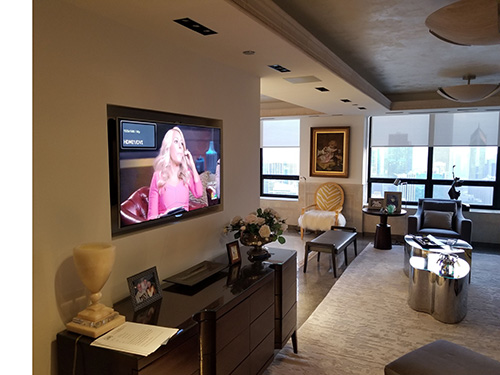 "We also replaced some of the Lutron dimmers to alleviate problems with new LED light fixtures," Buchan said. "That's another reason ELAN was the perfect choice - it's compatible with almost all third-party devices, so we knew we could easily tie in all the existing systems, like the Lutron lighting. Now the owners have one-touch control on the ELAN remote ad their mobile devices."
The two-zone climate control was fixed fairly easily, with new ELAN thermostats providing instant mobile control and an ELAN S1616A multi-zone audio controller was added to deliver music and audio to each of the condo's seven AV zones.
Buchan added Amazon Alexa® to the ELAN system so custom voice commands can control media and lighting zones. Panamax® power conditioners provide clean electricity and surge protection, along with BlueBOLT® remote power management. Through this technology, Buchan can address many troubleshooting issues remotely, and can schedule power-cycles – such as on the network router – to maximize performance. This helps save time for both the owner and the integrator while providing added peace of mind that the system is always protected from power issues.
"Doug and his team did an amazing job," the client said. "They created a friendly whole house system that gives us the control we wanted, while still making it simple to use. We couldn't be happier, and we've already recommended them to friends who are looking to simplify their systems and take advantage of the new functions offered by the ELAN system."
About ELAN
ELAN®, from Nortek Security & Control, develops an award-winning line of whole-house entertainment and control solutions distributed through a comprehensive channel of select dealers throughout the United States, Canada, and countries worldwide. The ELAN 8 update was honored with the "2017 Human Interface Product of the Year" award, and continues to expand its intuitive functionality with security, climate, surveillance and video distribution products and integrations.
About Nortek Security & Control
Nortek Security & Control LLC (NSC) is a global leader in smart connected devices and systems for residential, security, access control, and digital health markets. NSC and its partners have deployed more than 5 million connected systems and over 25 million security and home control sensors and peripherals. Through its family of brands including 2GIG®, ELAN®, Linear®, GoControl®, Mighty Mule® and Numera®, NSC designs solutions for security dealers, technology integrators, national telecoms, big box retailers, OEM partners, service providers, and consumers. Headquartered in Carlsbad, California, NSC has over 50 years of innovation and is dedicated to addressing the lifestyle and business needs of millions of customers every day. For further information, visit nortekcontrol.com.
Other brand names and product names mentioned herein may be the trademarks, tradenames, service marks or registered trademarks of their respective owners.
Back