Back
ELAN Adds Seamless Integration with NOON Lighting
CARLSBAD, CALIFORNIA – Continuing to expand system configuration possibilities for its dealers, smart home security, control and automation leader Nortek Security & Control LLC today announced the release of the new NOON Lighting System Driver for its ELAN® control system. Built by driver developer Chowmain, the new Driver enables NOON Light control to be easily managed from within the ELAN control platform.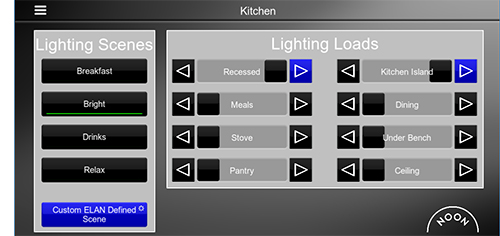 Coordinating all the lights in a room with one-touch, NOON's modern switches work together to transform a room's mood or accent an activity. Exclusive bulb detection technology combines with scene-creation algorithms to automatically create lighting scenes, using the fixtures already in installed within the home. The new ELAN NOON Driver provides automatic discovery of all loads and scenes in the NOON Lighting system, plus two-way control and feedback of lighting scenes and dimming. Instant feedback within ELAN is provided when lighting is controlled from a switch or another application.
"We are excited to provide our dealers with the ability to control NOON Lighting within the ELAN systems they are installing," ELAN Product Manager Jeff Shaw said. "NOON's new scene-based, in-home lighting control is exceptionally easy to personalize, which makes it a great fit with ELAN. It's an upscale lighting experience that is both cost-effective and easy-to-use."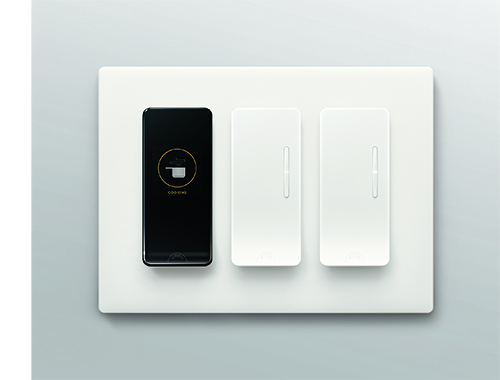 NOON was recently presented with the Consumer Technology Association (CTA)™ TecHome® 2019 Mark of Excellence "Lighting Control Product of the Year" Award at CES 2019 in January. In addition to ELAN, NOON also integrates with Amazon Alexa, Google Assistant, IFTTT and LIFX.
"Our new integration with ELAN will help us to broaden our customer base within the residential AV market, and deliver an even more integrated lighting experience for homeowners," NOON Co-Founder and Head of Product Annie Cheung said. "We look forward to continuing to expand as an ELAN partner."
About ELAN
ELAN®, from Nortek Security & Control LLC, develops an award-winning line of whole-house entertainment and control solutions distributed through a comprehensive channel of select dealers throughout the United States, Canada, and countries worldwide. The ELAN 8 update was honored with the "2017 Human Interface Product of the Year" award, and the new ELAN Intelligent Touch Panels add face recognition and voice control for a truly intelligent home experience.
About Nortek Security & Control
Nortek Security & Control LLC (NSC) is a global leader in smart connected devices and systems for residential security, smart home automation, access control, and digital health markets. NSC and its partners have deployed more than 5 million connected systems and over 25 million security and home control sensors and peripherals. Through its family of brands including 2GIG®, ELAN®, GoControl®, Linear®, Mighty Mule®, IntelliVision®, and Numera®, NSC designs solutions for security dealers, technology integrators, national telecoms, big box retailers, OEM partners, service providers, and consumers. Headquartered in Carlsbad, California, NSC has over 50 years of innovation and is dedicated to addressing the lifestyle and business needs of millions of customers every day. For further information, visit www.nortekcontrol.com.
Other brand names and product names mentioned herein may be the trademarks, tradenames, service marks or registered trademarks of their respective owners.
Back