Back
Tuesday, February 5, 2019
ELAN Demos Two New Intelligent Touch Panels at ISE 2019
8" and 12" smart home automation interfaces include voice control, plus IntelliVision® face recognition and high-resolution video.
AMSTERDAM, NETHERLANDS — Nortek Security & Control (NSC), a global leader in wireless security, home automation, access control and health and wellness technology, today announced that it is now conducting live demonstrations of its two new ELAN® Intelligent Touch Panels that leverage face recognition and voice control technology at ISE 2019 in NSC Stand 1-N50. The new touch panels each integrate face recognition to control media, lighting, climate, shares, security and more.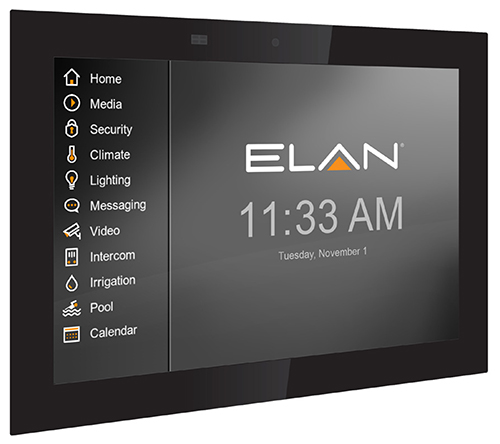 "With the control enhanced by face recognition and voice, these new interfaces go way beyond what we'd normally call a 'touch' panel," explained ELAN Product Manager Jeff Shaw. "They are fully interactive control panels that redefine what smart home control can be."
Each new intelligent touch panel starts with a high-resolution touch screen interface. Face recognition analytics from NSC's IntelliVision® enables the panel to respond to individual users with a personalized menu, and to automatically create scenes – such as media, climate lighting – personalized for the user. The dual digital MEMS microphone-array provides exceptional voice control for the ELAN® system, with flexibility that lets users choose their preferred voice interface – including Amazon Alexa™ – without needing to fill the house with voice assistant hardware.
The intelligent touch panels display high-resolution video, including monitoring and playback from ELAN Surveillance cameras and NVR. Two-Way Audio and Video enable exceptional communication with the video doorbell, paging, and ELAN Intercom.
ELAN Discovery simplifies installation by auto-discovering the intelligent touch panels on the network and configuring them with just a click. Each panel mounts using a standard 2 gang (US) box, which means no custom bracket is required. The interactive panels can be powered locally using a 12VDC power supply (not included) or using PoE, and connect to the controller over Wi-Fi or using power over Ethernet and with a single wire hookup.
"Our goal is to make the ELAN smart home more than just smart, and more than just connected," continued Shaw. "With these new intelligent and interactive panels, we're making the smart home experience more intuitive as well."
For a demo, visit Nortek Security & Control Stand 1-N50 at ISE 2019.
About ELAN
ELAN, from Nortek Security & Control LLC, develops an award-winning line of whole-house entertainment and control solutions distributed through a comprehensive channel of select dealers throughout the United States, Canada, and countries worldwide. The ELAN 8 update was honored with the "2017 Human Interface Product of the Year" award, and continues to expand its intuitive functionality with security, climate, surveillance and video distribution products and integrations.
About Nortek Security & Control
Nortek Security & Control LLC (NSC) is a global leader in smart connected devices and systems for residential, security, access control, and digital health markets. NSC and its partners have deployed more than 4 million connected systems and over 25 million security and home control sensors and peripherals. Through its family of brands including 2GIG®, ELAN®, Linear®, GoControl®, Mighty Mule®, IntelliVision®, and Numera®, NSC designs solutions for security dealers, technology integrators national telecoms, big box retailers, OEM partners, service providers, and consumers. Headquartered in Carlsbad, California, NSC has over 50 years of innovation and is dedicated to addressing the lifestyle and business needs of millions of customers every day. For further information, visit www.nortekcontrol.com.
Other brand names and product names mentioned herein may be the trademarks, tradenames, service marks or registered trademarks of their respective owners.
Back