Back
ELAN Helps to Build a Personalized Smart Home for Wounded U.S. Veteran Through the Gary Sinise Foundation
ELAN® control paired with SpeakerCraft® audio and Panamax® power protection, all by Nortek Security & Control, provides the ultimate smart home experience for U.S. Army SFC Jared Bullock.
PETALUMA, CALIFORNIA — After serving two tours in Iraq, U.S. Army SFC Jared Bullock trained for Special Forces and received a Green Beret in October 2013. Just a month later, on deployment in Afghanistan, an IED explosion on a routine patrol forever altered his life, leaving him without his right arm and leg. After more than thirty surgeries, Bullock was recognized by the Gary Sinise Foundation's R.I.S.E. program (Restoring Independence, Supporting Empowerment) to receive a smart home designed and built specifically to address his needs.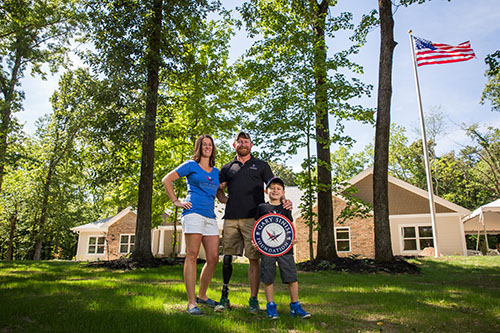 When U.S. Army SFC Bullock describes that fateful day in November of 2013, he refers to it as "an incident," according to David Young, Owner & President of integration firm The Sound Room. That is Bullock's personality: unapologetically upbeat, always looking forward, doing his best not to dwell on the past. Speaking with the Gary Sinise Foundation® about the incident, Bullock shared, "I knew that my life wasn't over, and this was just another challenge. Challenges have always motivated me to push harder in life."
Designing a modern home to fit the lifestyle of a wounded veteran involves technology that is customizable and extremely easy-to-use. To serve at the center of the smart home system, The Sound Room installed an ELAN® Control System and other Nortek Security & Control technologies that enable easy control of lighting, audio, video, window shades, a security system with cameras, motorized door locks, garage door control, two zones of climate control and a front door video intercom.
The user-intuitive ELAN control interface is available to U.S. Army SFC Bullock through the two ELAN touch panels in the master bedroom and great room, as well as on an iPad® and iPhone®. This way, he and his family can easily see who is at the front door, view security feeds, and see what equipment is currently on or off throughout the home. Young also personalized "home" and "away" settings – the "away" setting can be enabled from any connected device to automatically ensure that TVs and lights are turned off, security is activated, and the doors are closed and locked when the family leaves.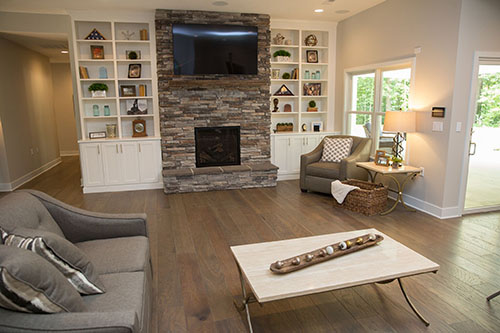 The designer and integrator worked together to build what is perhaps Bullock's favorite area in the home, the exercise room. Complete with a 43" 4K TV and a pair of SpeakerCraft® in-ceiling speakers, he is always hard at work keeping his body in top condition. His dedication to physical fitness and challenges is part of his identity, as evidenced by the 12-mile race he ran just 10 months after the IED incident. Since then he has competed in Spartan races, worked with child amputees, and been featured for his strength and resilience on Bodybuilding.com.
With a large amount of equipment involved – including two ELAN® touch-panels, 16 SpeakerCraft in-ceiling speakers, three Sony® 4K TVs, 16 Lutron® lighting dimmers, six 75" wide Lutron motorized window shades, home theater equipment and more – protecting the system is of paramount importance. The Sound Room relied on Panamax® VT4315-PRO power conditioners to ensure every component gets clean, consistent power for optimal operation, and a Panamax MB-1500 rack-mount battery backup to allow for safe operation and shutdown of all rack components in case of a power outage.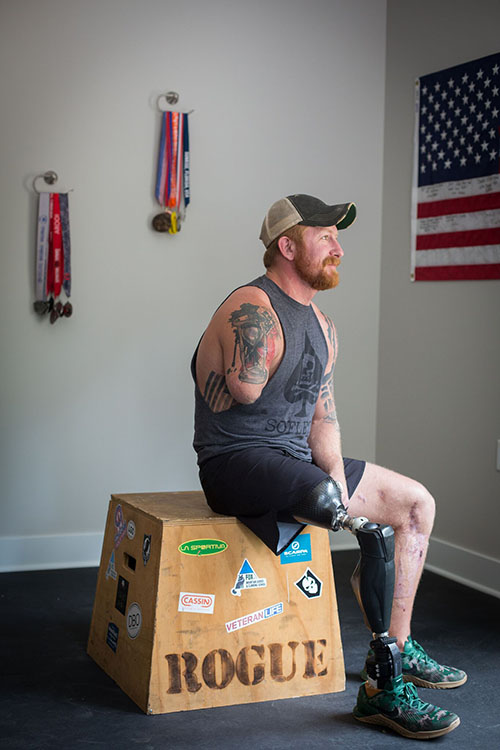 During the project, Young was impressed with his team's willingness to donate their time and expertise to this project. "This project presented a few challenges, namely because it was 2.5 hours away from our home location," he said. "But even considering that, as soon as I announced our involvement in the project, several team members volunteered to work for free in support of U.S. Army SFC Bullock. It was a proud moment, as it was when we finally handed him the iPad that serves as the keys and control surface for his home."
The Sound Room also worked directly with other manufacturers to have additional items donated, including obtaining a free Luxul® networking system for the family. Toward the end of the project, a Verizon® cell phone signal booster was added to improve the mediocre cellular reception at the home.
"The home for U.S. Army SFC Bullock was built to make his life at home as seamless as it could be with customized design," concluded Judith Otter, Executive Director of the Gary Sinise Foundation. "We're so honored to be a part of his journey and to better personalize his home to his needs. Without the generosity of Nortek Security & Control and our other partners, this wouldn't be possible."
About ELAN
ELAN, now part of Nortek Security & Control, develops an award-winning line of whole-house entertainment and control solutions distributed through a comprehensive channel of select dealers throughout the United States, Canada, and countries worldwide. The ELAN 8 update was honored with the "2017 Human Interface Product of the Year" award, and continues to expand its intuitive functionality with security, climate, surveillance and video distribution products and integrations.
About Nortek Security & Control
Nortek Security & Control LLC (NSC) is a global leader in smart connected devices and systems for residential, security, access control, and digital health markets. NSC and its partners have deployed more than 4 million connected systems and over 25 million security and home control sensors and peripherals. Through its family of brands including 2GIG®, ELAN®, GoControl®, Linear®, Mighty Mule® and Numera®, NSC designs solutions for national telecoms, big box retailers, OEM partners, service providers, security dealers, technology integrators and consumers.
Headquartered in Carlsbad, California, NSC has over 50 years of innovation and is dedicated to addressing the lifestyle and business needs of millions of customers every day.
Other brand names and product names mentioned herein may be the trademarks, tradenames, service marks or registered trademarks of their respective owners.
Back