Back
Wednesday, February 6, 2019
ELAN Launches New Software Update Featuring Enhanced Surveillance Camera Support and Advanced Video Analytics at ISE 2019
AMSTERDAM, NETHERLANDS — Demonstrating its ability to provide dealers and customers with the most integrated and intuitive automation platform, Nortek Security & Control (NSC) today announced the introduction of the ELAN® 8.3 software update, which features expanded support for the growing line of ELAN Surveillance Cameras, plus advanced IntelliVision® video analytics. ELAN 8.3 is making its worldwide debut at ISE 2019 in Nortek Security & Control Stand 1-N50 in the RAI Centre.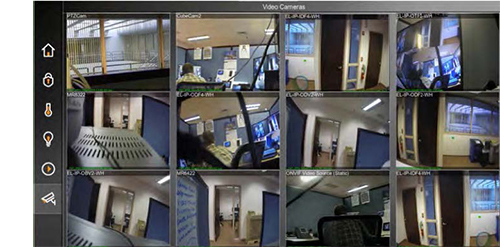 "ELAN 8.3 is our latest software that makes the smart home or business more intuitive and intelligent, and provides dealers and end-user customers with more customization options," said NSC Director of Software Product Management Tom McKeon. "With every update, we make it easier to access, control, and automate more subsystems within the installation and, in doing so, we continue to equip our dealers with the most seamless control platform to sell to their customers."
Most notably, the new update offers support for the new line of ELAN Surveillance Cameras, which employs new advanced object detection by NSC subsidiary IntelliVision to minimize false positive alerts.
Through 8.3, new ELAN Surveillance Configuration and Recording options are now available to the end user in the Viewer tab. Users can set a recording schedule and choose between Constant, Motion Only, or Custom modes. The Custom mode schedule can be created and quickly applied to all channels, and all users can set, clear and customize motion area and sensitivity with motion-only and weighted recording support. Users can also employ a privacy mask password protection on per-user basis with up to four regions per camera, and add link recording and privacy options to System Mode.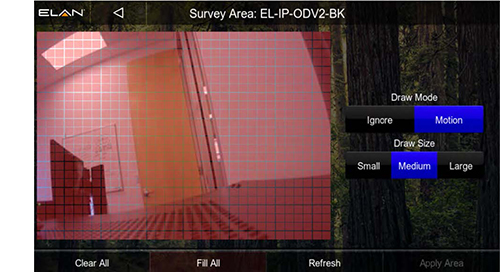 "The new capabilities offered by the ELAN Surveillance Camera line lets users define a custom 'survey area' for advanced motion detection, and set sensitivity, object size, width parameters, and scene types," McKeon said. "The system can distinguish between a 'person' and a general motion event – like a tree swaying in the wind – that is a primary reason people turn off their alerts."
Additionally, dealers can now optionally set static IP addresses for NVR and Cameras in the Discover tab with a new preview window when adding camera to assist with identification and renaming. The update also offers improved Surveillance footage timeline loading, and progressive loading for more responsive local and remote playback.
ELAN 8.3 also enables a new robust weather service, with new weather icon sets; a multiple pool support feature that allows for up to four pools on the controller; and updated drivers for popular AVRs including Integra®, Onkyo®, Pioneer®, Denon®, Marantz® and Sony®.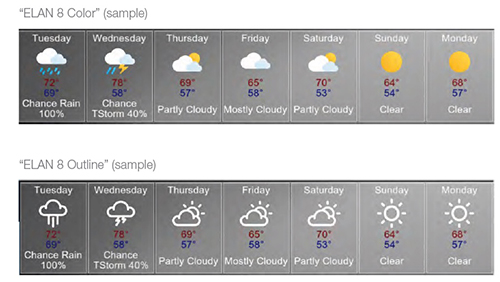 With 8.3, ELAN now communicates directly with the 2GIG® Vario® hybrid wired/wireless security panel. For pool and spa control, Pentair IntelliCenter™ support has been added. The Sonos® driver updates enable Line-In support for players as well as Static Zones for home theater players and Optical-In selection. To help integrators, a new port scan & tunnel feature allows the Discovery tab to scan a local network for open http port (80) and provide access to device configuration pages. And as its name implies, the Device Status feature allows dealers to check device status in real-time with color coding shown in the Configurator tab.
"We're confident dealers and their customers are going to appreciate the enhanced functionality of this new release," McKeon concluded. "We invite all integrators working with competitive control systems to come experience ELAN at ISE 2019. You will be impressed."
For more information, visit Nortek Security & Control at ISE 2019 in Stand 1-N50.
About ELAN
ELAN, from Nortek Security & Control, develops an award-winning line of whole-house entertainment and control solutions distributed through a comprehensive channel of select dealers throughout the United States, Canada, and countries worldwide. The ELAN 8 update was honored with the "2017 Human Interface Product of the Year" award, and continues to expand its intuitive functionality with security, climate, surveillance and video distribution products and integrations.
About Nortek Security & Control
Nortek Security & Control LLC (NSC) is a global leader in smart connected devices and systems for residential, security, access control, and digital health markets. NSC and its partners have deployed more than 4 million connected systems and over 25 million security and home control sensors and peripherals. Through its family of brands including 2GIG®, ELAN®, Linear®, GoControl®, Mighty Mule® and Numera®, NSC designs solutions for security dealers, technology integrators, national telecoms, big box retailers, OEM partners, service providers, and consumers. Headquartered in Carlsbad, California, NSC has over 50 years of innovation and is dedicated to addressing the lifestyle and business needs of millions of customers every day. For further information, visit nortekcontrol.com.
Other brand names and product names mentioned herein may be the trademarks, tradenames, service marks or registered trademarks of their respective owners.
Back