Back
ELAN Makes Control Easy in Stunning New Florida Keys Home
Paired with Amazon Alexa®, the ELAN system allows for voice control of the home's lighting, shades, audio, video, pool and spa settings, climate and more.
CARLSBAD, CALIFORNIA — One Longboat Key, Florida couple recently moved into their new 8,000-square-foot dream home, complete with an advanced ELAN® home automation system that lets them control every sub-system through mobile devices and Amazon Alexa voice commands. Driven by a love of music and a desire to seamlessly control their home technology, the couple worked with Mark Van den Broek, owner of Sarasota-based SmartHouse Integration, to design and deliver an intuitive whole-home control experience.
"Mark and his team were the only ones who asked us what we wanted the house to do, instead of just listing what they could do, and then they made it happen," the homeowner said. "It was like magic!"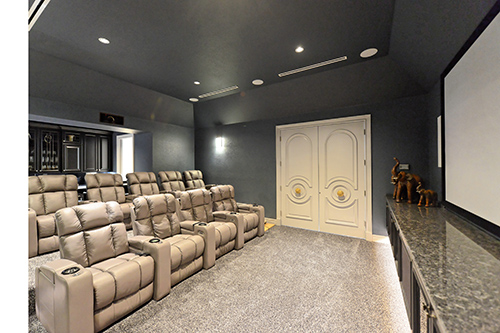 SmartHouse Integration started with an ELAN controller to serve as the 'brain' of the smart home. Van den Broek and his team then positioned nine Amazon Echo Dots® throughout the home and personalized several custom Alexa voice-controlled sequences, empowering the owners to "speak" to their system for common commands.
For example, saying "Alexa, good morning" turns on lights, opens window shades, turns on the living room TV and disarms the security system all at once. At night, "Alexa, goodnight" shuts off the audio and video on the first floor, turns on the master bathroom lights, turns off the indoor pool fountains and waterfalls, adjusts the thermostats to a preset level, and dims the foyer chandelier to 10 percent until 2:00 AM, at which point it turns off.
Knowing how important audio quality and accessibility was to the homeowners, SmartHouse Integration also designed and installed a 16-zone audio system using ELAN amplification and distribution, an Autonomics® media server, and SpeakerCraft® AIM Series 2 in-ceiling speakers to deliver any music, any time, to anywhere in the home. Like other home control functions, music control is accessible through the ELAN app on any smartphone, tablet or multiple ELAN in-wall touch panels, so music is never more than a few taps away.
"We knew that top-quality audio was a make-or-break feature of this system," Van den Broek said, "so we used the best ELAN and SpeakerCraft equipment to ensure every room sounds fantastic, access is fast and easy, and they can use content from multiple sources simultaneously."
For the home theater, which is the couple's most frequently used entertainment area, an ELAN remote provides the best of both worlds: it offers all the functions of a normal TV remote, plus a touchscreen with full access to automated systems. SmartHouse Integration programmed the remote's TV button to bring the whole theater to life with a single touch, automatically turning on the projector and surround sound receiver while slowly dimming the lights to movie-viewing level. The same remote then gives access to any of the home's media, which includes streaming and downloaded content through an Apple TV or Roku, and a cable box. If they pause or stop the movie, the wall sconces automatically brighten to 50% until play resumes.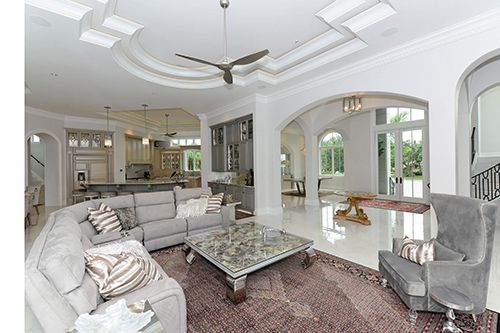 "The automation in this home makes daily living much simpler and less stressful," van den Broek added. "By using custom procedures that initiate a series of functions through a single phrase or button, the couple can get down to what they want to do faster and easier, without having to change settings on equipment or walk around to adjust lighting."
As in the rest of the home, the theater is designed for an exceptional audio experience, delivering a 9.2 surround sound experience with SpeakerCraft AIM Cinema THREE in-wall speakers, a SpeakerCraft Profile AIM center channel speaker and two powerful Sunfire 10-inch subwoofers. The theater is one of the home's eight video zones, so all content is delivered from the equipment rack in the home's utility room, with no unsightly boxes or wires necessary in the theater. A Sony projector and Dragonfly projection screen provide incredible clarity and brightness to round out the ultimate home theater experience.
The ELAN system integrates with a Lutron HomeWorks system to control lighting throughout the house, with 46 loads, including pool and landscape lights. Going above and beyond what's expected, SmartHouse Integration connected the indoor pool's numerous waterfalls, fountains, and a nearby gas fireplace for mobile control through the ELAN system.
"This beautiful island home became a true paradise for my clients," van den Broek added. "By making nearly every electronic function of the home easier to use, accessible from anywhere, and connected for monitoring, the ELAN system with Alexa® voice control has entirely changed their home life. We hope this inspires others to investigate how smart home control can make their houses easier to manage and more comfortable to live in."
SmartHouse Integration worked with the couple to create a video walkthrough and testimonial, which is available to view here.
About ELAN
ELAN®, from Nortek Security & Control, develops an award-winning line of whole-house entertainment and control solutions distributed through a comprehensive channel of select dealers throughout the United States, Canada, and countries worldwide. The ELAN 8 update was honored with the "2017 Human Interface Product of the Year" award, and continues to expand its intuitive functionality with security, climate, surveillance and video distribution products and integrations.
About Nortek Security & Control
Nortek Security & Control LLC (NSC) is a global leader in smart connected devices and systems for residential, security, access control, and digital health markets. NSC and its partners have deployed more than 4 million connected systems and over 25 million security and home control sensors and peripherals. Through its family of brands including 2GIG®, ELAN®, Linear®, GoControl®, Mighty Mule® and Numera®, NSC designs solutions for security dealers, technology integrators, national telecoms, big box retailers, OEM partners, service providers, and consumers. Headquartered in Carlsbad, California, NSC has over 50 years of innovation and is dedicated to addressing the lifestyle and business needs of millions of customers every day. For further information, visit nortekcontrol.com.
Other brand names and product names mentioned herein may be the trademarks, tradenames, service marks or registered trademarks of their respective owners.
Back