ELAN Makes Debut as Automation Platform for Commercial Integrators at InfoComm 2018
LAS VEGAS, NEVADA, June 7, 2018 – Meeting the commercial AV industry's demand for a robust, all-encompassing automation platform, Nortek Security & Control today introduced ELAN® to InfoComm 2018 attendees in Booth #C2612 in Las Vegas, Nevada at the Las Vegas Convention Center.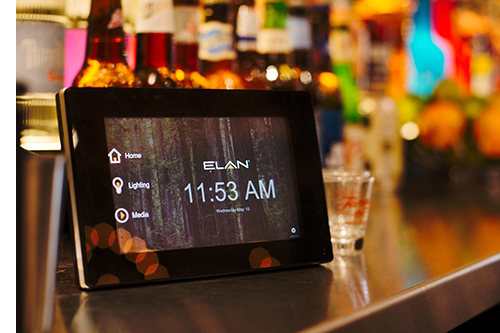 While ELAN is recognized in the residential channel as a user-intuitive and installer-friendly platform, NSC Senior Director of Marketing Bill Hensley today said that ELAN is increasingly being used in commercial projects that require full management over sub-systems like audio, video, security, lighting and climate.
"Commercial installers are already leveraging the same features and capabilities that make ELAN great for residential projects in their hotel, restaurant, corporate, and commercial building projects," he said. "ELAN enables the integrated management of all connected sub-systems that a business needs to operate efficiently, from temperature management of the walk-in cooler, to the integration of the surveillance and security system, to full management of the AV system."
With a tap on a touch screen or mobile app, staff members can control climate and lighting, access security and video cameras, manage music and video content and more from one seamless interface on an app or smartphone. For example, a restaurant facility may need to incorporate different audio feeds into each dining area within the space to cultivate varying atmospheres. "For example, the audio might need to be louder outside, while playing softer – or an entirely different soundtrack – inside," Hensley said. "ELAN makes it easy to personalize each space to operate as a separate 'zone' or to group these zones on-the-fly as the occasion."
ELAN automates routine control through customized "events" and schedules, making facility management easier than ever. For example, a facility's thermostats, shades and lighting can be scheduled for proper ambience throughout operating hours, freeing the staff to focus on the customers.
ELAN has recently been installed in commercial venues around the world, such as the PLAY Restaurant & Lounge in Dubai; the Nashville Underground bar in Nashville, TN; the College of St. Benedict in Rogers, MN; and many more.
"ELAN makes it easy for commercial installers to deliver a seamless management experience to their customers," Hensley concluded. "We encourage commercial dealers to visit us at InfoComm 2018 in Booth #C2612 and learn about what ELAN can do for them."
About ELAN
ELAN, now part of Nortek Security & Control, develops an award-winning line of whole-house entertainment and control solutions distributed through a comprehensive channel of select dealers throughout the United States, Canada, and countries worldwide. ELAN was honored with the "2017 Human Interface Product of the Year" award and continues to expand its intuitive functionality, most recently with a full line of IP surveillance cameras and network video recorders.
About Nortek Security & Control
Nortek Security & Control LLC is a global leader in smart connected devices and systems for residential smart home, security, access control, AV distribution, and digital health markets. NSC and its partners have deployed more than 4 million connected systems and over 25 million security and home control sensors and peripherals. Through its family of brands including 2GIG®, ELAN®, Gefen®, GoControl®, Linear®, Mighty Mule® and Numera®, NSC designs solutions for national telecoms, big-box retailers, OEM partners, service providers, security dealers, technology integrators, and consumers.
Headquartered in Carlsbad, California, NSC has over 50 years of innovation and is dedicated to addressing the lifestyle and business needs of millions of customers every day. For further information, visit nortekcontrol.com.