Back
Saturday, September 8, 2018
ELAN Now Shipping Ultra-Sleek HR30 Remote Worldwide
SAN DIEGO, CALIFORNIA — Continuing in its effort to deliver the best user experience in the smart home control category, Nortek Security & Control (NSC) today announced that it is now shipping the ELAN® HR30 remote, a new interface that sets an unparalleled standard for performance, reliability, aesthetic appeal and intuitiveness. The ELAN HR30 is now on display at CEDIA 2018 in Nortek Security & Control Booth #4637 in the San Diego Convention Center.
"We are committed to helping dealers deliver an outstanding experience to every customer," ELAN Product Manager Jeff Shaw said today. "The HR30 remote does just that by providing instant and intuitive control of the ELAN system – media, lighting, climate, audio, video and more. Control has never been easier for the homeowner."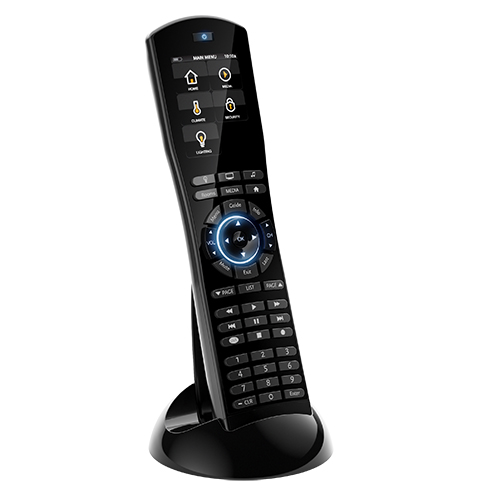 The ELAN HR30 is the ultimate extension of the ELAN user interface, allowing users to easily control multiple media rooms, lighting, climate, and security. The new remote is highlighted by a flush mount 2.8" Color Touch Screen, allowing a user to swipe left or right to quickly access favorite content.
The remote also features three customizable buttons for instant personalized access to music, movies, and lighting, and is compatible with ELAN's On Screen Display interface.
For dealers, the screen is easily personalized using the ELAN® Configurator and is fully compatible with ELAN's current System Controller line-up. The 802.11 b/g/n Wi-Fi Remote ensures compatibility with today's wireless networking technology, and its built-in IR blaster allows users to easily control via IR devices when needed.
"The ELAN HR30 really takes home control to the next level with robust functionality and an aesthetically engaging interface," Shaw concluded. "We encourage any interested dealers that are attending CEDIA to come check it out in person in Booth 4637."
The ELAN HR30 comes with a charging stand and battery, and carries an MSRP of $870.00.
About ELAN®
ELAN, now part of Nortek Security & Control, develops an award-winning line of whole-house entertainment and control solutions distributed through a comprehensive channel of select dealers throughout the United States, Canada, and countries worldwide. The ELAN 8 update was honored with the "2017 Human Interface Product of the Year" award, and continues to expand its intuitive functionality with security, climate, surveillance and video distribution products and integrations.
About Nortek Security & Control
Nortek Security & Control LLC (NSC) is a global leader in smart connected devices and systems for residential, security, access control, and digital health markets. NSC and its partners have deployed more than 4 million connected systems and over 25 million security and home control sensors and peripherals. Through its family of brands including 2GIG®, ELAN®, GoControl®, Linear®, Mighty Mule®, IntelliVision®, and Numera®, NSC designs solutions for national telecoms, big box retailers, OEM partners, service providers, security dealers, technology integrators and consumers.
Headquartered in Carlsbad, California, NSC has over 50 years of innovation and is dedicated to addressing the lifestyle and business needs of millions of customers every day. For further information, visit nortekcontrol.com.
Any other brand names and product names mentioned herein may be the trademarks, tradenames, service marks or registered trademarks of their respective owners.
Back