Back
Tuesday, December 12, 2017
ELAN Transforms a Golf Simulator Game Room into a Home Theater with the Touch of a Button
PETALUMA, CALIFORNIA — Why have two separate rooms for a home theater and a golf simulator when you can combine them into one? That was homeowner Sebastian Mascaro's thinking while renovating part of his 7,000-square foot home in Kissimmee, Florida. To make his dream a reality, Mascaro reached out to local integration firm Millennium Systems Design (MSD) to turn his former home gym into a dual-functioning entertainment room that can change from a home theater to a golf simulator, and back, with the touch of a button.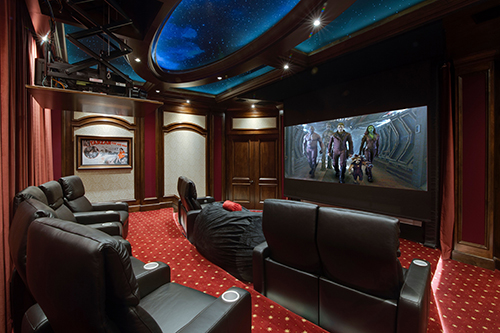 "We recommended ELAN as the home automation system for this project because it can integrate with many different technologies to operate in distinct customized modes," said MSD President Michael Barry. "Plus, ELAN is very user-intuitive. Despite how complicated the integration is on the back-end, the system enables Sebastian to change the room with no effort at all."
MSD installed one ELAN gSC10 Controller paired with an ELAN g1 Controller to anchor all of the home theater and golf simulator technology, accessible through an ELAN gTP7 in-wall touchpanel, ELAN gHR200 remote, and the ELAN Mobile app on his smart phone. The sophisticated system was configured into two simple modes: "home theater" and "golf simulator," both of which incorporate screens, motorized shades, lights, projectors, decorative displays, and speakers that turn on or off automatically.
"During the design process, we quickly realized that we'd need two separate screens. A golf simulator needs at least a foot of space behind it so that the ball can hit the flexible display and bounce back on the floor," Barry explained. "Meanwhile, a home theater screen needs to be sturdy to support 4K content. Therefore, we built a dual-motorized system that, through ELAN, can be instantly changed to suit Sebastian's desires at any given time."
For the golf simulator, MSD installed a floor-based Short Throw Projector that sends the image upwards onto a 'porous' screen, which avoids the risk of creating a player's shadow from behind. MSD then installed a 138" Custom Vision X motorized diagonal screen that drops down immediately in front of the golf screen during "home theater" mode. In this mode, the Short Throw Projector will shut off, and a 4K SXRD Home Cinema projector will also drop down at the back of the room from a Mini 6 Scissor Lift, and two Sony HDTV 40" displays will display old movie posters of films like "Some Like It Hot."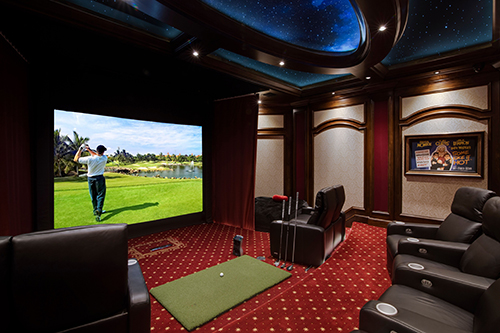 "It's quite amazing how everything happens at once. When I click 'home theater' on the ELAN App, the theater screen comes down, the lights dim, the speakers power up, and the movie theater posters appear," Mascaro explained. "When I click 'golf simulator' mode, the theater's motorized screen lifts up, the golf simulator turns on, and all of the room's motorized shades open to show the greenery outside. The mood totally changes along with the designated function."
MSD also installed powerful audio to accompany the room's displays, including four Sunfire Dual 8" Active In‐Wall Subwoofers paired with four Sunfire Amplifiers. "Sound is a huge component of creating a realistic home theater," Barry added. "Details and acoustics were put into it to create a true theater experience. Sunfire is the strongest subwoofer with the smallest enclosures. It also easily integrates with ELAN. In addition to turning on or off in certain modes, Sebastian can easily adjust the volume from his remote or the phone in his pocket."
MSD also installed two Furman PL-PRO DMC 20A Power Conditioners to protect all of the entertainment room's tech. "With every client, we always stress to protect the equipment rack with Furman power conditioning," Barry explained, "especially when the functionality of the room is entirely contingent on how well the products work. It'd be a shame if 'dirty' power was responsible for glitches after Sebastian invested in the best-of-the-best."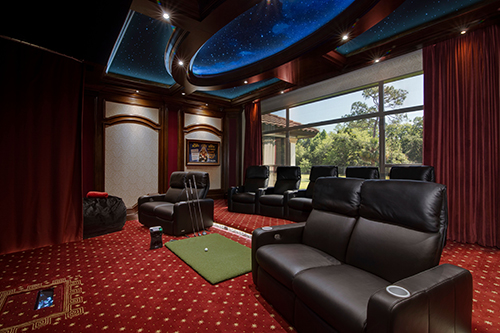 During the five-month renovation process, MSD worked closely with builder Bo Morgan of Goehring and Morgan to transform the space from an exercise room into what it is today. "It was a unique experience to retrofit a room previously built to be a home gym," Morgan said. "Despite the challenges we faced during the re-design process, MSD was an absolute pleasure to work with. As we see more clients ask for smart technology, we always turn to MSD for their expertise. It's becoming increasingly important to implement smart automation at the onset, during the building process, to maximize how it can be used to better the home-owning experience."
Mascaro is thrilled with his new entertainment room, which fits right in with his whole home ELAN automation system which integrates the entire property's lighting, climate, irrigation, audio, video and security integration. "I would recommend MSD's services and ELAN's automation system to anyone looking to turn their home dreams into a reality," he said. "ELAN is so easy to use. It's helped to turn my ideas about a unique entertainment room into a reality!"
For hi-res images, click here. To download a word document of this release, click here.
About ELAN
ELAN, from Core Brands, develops an award-winning line of whole-house entertainment and control solutions distributed through a comprehensive channel of select dealers throughout the United States, Canada, and countries worldwide. The new ELAN 8 update was honored with the "2017 Human Interface Product of the Year" award from the Consumer Technology Association's Mark of Excellence Award Program Committee at CES 2017.
About Core Brands
Anchored by the ELAN Smart Home Control Platform, Core Brands combines the strengths of its iconic control, audio, power management, connectivity and video distribution brands – ELAN®, SpeakerCraft®, Gefen®, Niles®, Panamax®, Proficient®, Furman®, Sunfire® and Xantech® – to deliver a portfolio of connected home and commercial solutions to its channel partners and end users. For further information, visit www.corebrands.com.
Back