Back
Tuesday, November 6, 2018
Integrator Offers Londoners Hands-On Home Automation Demos in New Downtown Experience Center
PETALUMA, CALIFORNIA — Home automation is taking the world by storm. From apartments with simple multi-room audio and video to homes with commercial-grade theaters and app-controlled spas and fireplaces, there is something for everyone. For Syed Humeer, Director of London electronics integrator AV Elements, the rapid acceptance and acknowledgment of home automation's power made it the perfect time to build an advanced home technology showroom in London, the AV Elements Experience Center, bringing the latest innovations to life for an unfamiliar public.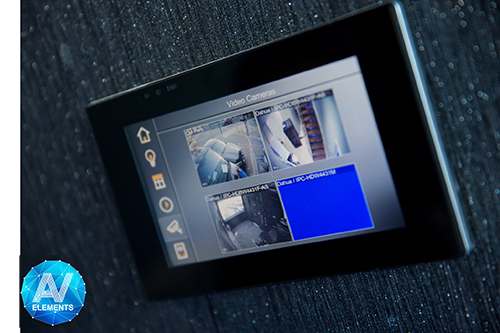 "For the most part, the public knows about home automation mainly from what they see on TV, like Alexa or Siri," Humeer said. "But if you have never seen or used a full automation system, you don't really know the full power of what's possible. I want everyone to have an opportunity to experience it first-hand and understand how much is possible with a robust automation system. I built this experience center to give Londoners a place where they could visualize what's available to integrate in their homes, and to make it easier to choose what suits them best. Maybe most of all, I wanted to highlight the simplicity of ELAN control and how it can make nearly every home task easier and faster."
Centered around an integrated suite of Nortek Security & Control products including the ELAN® control system, Sunfire® home theater speakers, Niles® in-ceiling speakers and Furman® power protection, Humeer has created a technological wonderland where homeowners can dream wild dreams, and then learn how to make them into reality. The home theater is complete with a 110-inch screen and 4K projector, cinema-style recliners, Sunfire surround sound with in-wall speakers and subwoofers, and leading content delivery systems like Morpheus streaming.
In addition to the Nortek Security & Control equipment that forms the core of the experience center and control system, Humeer incorporated nearly every capability that homeowners can achieve. From voice control through Amazon Alexa and Google Home to programmable LED tape lighting, mirror TVs and motorized window blinds, visitors are treated to the best of the best at every turn. QMotion blinds offer remote control of window coverings, HDL lighting provides one-touch controls and 'scenes' based on time of day or situations, such as "night" mode, and LED rope lighting allows users to select from 72 million colors, perfect for any mood or ambience. The HVAC is connected as well, with Coolmaster units allowing the ELAN system to schedule and adjust climate settings at a moment's notice.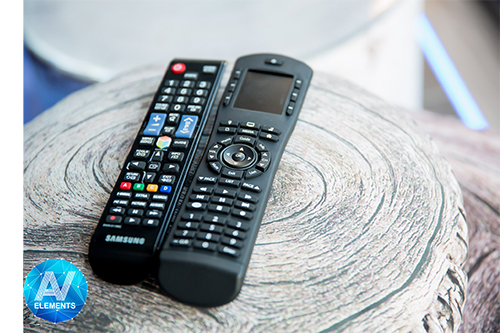 "Every potential client who has visited so far, basically their eyes popped out of their heads," Humeer added. "I often get calls where people are looking for security or lighting control, and when I try to explain to them how it will work and what can be added, it's difficult to grasp without visuals or a demo. But once I invite them to the showroom to test out different controls and pick out things they like, it really is like kids in a candy store, wide-eyed and with voracious appetites."
Located on the A12 near Blackwall Tunnel, the AV Elements Experience Center is positioned among mid-range London homes, and just a few kilometers from high-end communities where owners are likely to invest in sophisticated whole-home systems.
"Even the simple things, or what I consider simple, such as scheduled lighting throughout the day or instant security camera viewing from a mobile phone, really make people stop and consider how technology could change their home life," Humeer explained. "One major reason I chose to use Nortek brands for all of my installations is that I know they work without fail. ELAN is, in my view, the easiest-to-use home control system, and I've found it be the most reliable as well. It's a huge benefit that the interface is identical whether you're using an ELAN wall-mounted touchscreen, a mobile phone, a PC or even the TV interface. If any of this was complicated or finicky, I would have a much harder time convincing people it will simplify their lives."
Visitors to the experience center get to try out all the different input devices, including 7-inch and 12-inch ELAN in-wall touchscreens, the ELAN mobile app for Apple or Android devices, and ELAN remotes to access to the control system. An ELAN S1616A multi-zone audio controller manages the experience center's seven audio zones, while an ELAN 4K matrix distributes video to five video zones.
For Humeer and AV Elements, the experience center is a huge step forward in bringing home technologies to Londers' fingertips. For local consumers and homeowners, it shows how to improve daily life through modern technologies that reduce the amount of human input required to manage a home.
To learn more about AV Elements, the ELAN control system, or to schedule an appointment at the AV Elements Experience Center, visit www.avelements.co.uk or call them as 0044 20 8133 7860.
Nortek Security & Control products are available in the UK and Ireland through Indigo Distribution, a trade-only distributor of home technology solutions. For more information on using ELAN®, Sunfire®, Niles®, Xantech® and Furman®, and to help locate a certified integrator near you, contact Indigo Distribution at 028.9145.5565 or visit them at https://www.indigodistribution.co.uk/.
About Indigo Distribution
Indigo Distribution is a trade-only distributor of Home Automation and AV Solutions for the residential and commercial markets, supplying premium hardware from such renowned brands as ELAN®, Niles®, Sunfire®, Furman® and Xantech® throughout the UK and Ireland. Decades of combined experience ensure Indigo can provide integrators with the latest, best products for every job, plus design assistance, award-winning training and marketing knowledge, and the best technical support. For more information visit www.indigodistribution.co.uk.
About ELAN
ELAN, part of Nortek Security & Control, develops an award-winning line of whole-house entertainment and control solutions distributed through a comprehensive channel of select dealers throughout the United States, Canada, and countries worldwide. The ELAN 8 update was honored with the "2017 Human Interface Product of the Year" award, and continues to expand its intuitive functionality with security, climate, surveillance and video distribution products and integrations.
About Nortek Security & Control
Nortek Security & Control LLC (NSC) is a global leader in smart connected devices and systems for residential, security, access control, and digital health markets. NSC and its partners have deployed more than 4 million connected systems and over 25 million security and home control sensors and peripherals. Through its family of brands including 2GIG®, ELAN®, Linear®, GoControl®, Mighty Mule®, IntelliVision® and Numera®, NSC designs solutions for national telecoms, big box retailers, OEM partners, service providers, security dealers, technology integrators and consumers.
Headquartered in Carlsbad, California, NSC has over 50 years of innovation and is dedicated to addressing the lifestyle and business needs of millions of customers every day. For further information, visit nortekcontrol.com.
Other brand names and product names mentioned herein may be the trademarks, tradenames, service marks or registered trademarks of their respective owners.
Back