Back
Wednesday, April 17, 2019
Luxury Florida Apartment Complex Gets the White Glove Treatment with ELAN Entertainment & Control
SpeakerCraft® and Niles® speakers add a customized audio experience for residents while Furman® and Panamax® power conditioning solutions keep everything protected.
CARLSBAD, CALIFORNIA — The luxury apartment business is booming and the latest trend in this market is all about the amenities, as high-tech entertainment and control features are now driving sales and ratcheting up the competitive landscape for owners of these complexes who are increasingly targeting tech-centric homebuyers.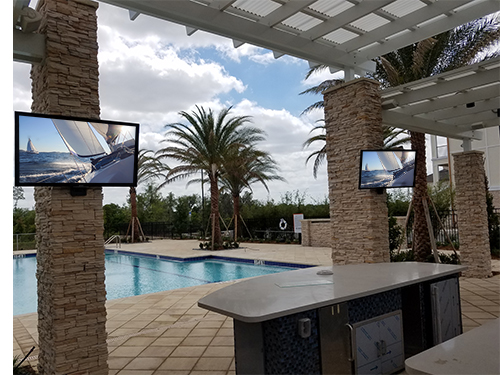 When Jose Zapata of Affordable Alarm & Monitoring Inc. (AAMI) was hired by the owners of Altman Glenewinkle Construction to install the AV system for their latest South Florida luxury apartment complex, the focus of the project was clear – to install a state-of-the-art AV system on a tight budget that was easy to operate and completely customizable. Zapata knew the complex's entertainment amenities were a high-priority in the project. Without hesitation, he chose to rely on the ELAN® Entertainment and Control System.
"The owners made it very clear that the amenity center with its many high-tech entertainment options was to be the overall focus of this project, with five or six different zones that would share all the audio and video sources," Zapata explained. "The system needed to be easy to control by management, whether onsite or offsite, as well as provide additional onsite control by both staffers and complex residents."
Zapata needed a solution that provided these customized levels of control and could also handle controlling all the AV entertainment spread out over the entire complex, which covers around 10,000 square feet of space.
"We chose ELAN due to the flexibility of the distribution of audio/video signals we knew this install would involve," he continued. "The ability to put in a couple easy-to-use ELAN touch panels at access areas throughout the complex and personalize them with preconfigured set-ups was also a major consideration. This enables residents to control the common functions like a TV in the club room or fitness room. With the ELAN system, we could provide that kind of customized access while management still maintained control over the entire system."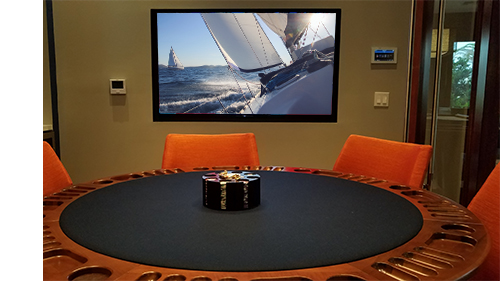 The ability for management to address residents' requests from an offsite location, or for maintenance people to quickly respond to a request using their iPhone onsite, such as the audio being too quiet in a particular location, was also high on the client's list of "must-have" features that ELAN delivered.
Zapata added that ELAN 4K Video over IP product line provided the perfect solution to another challenge the installation faced — needing multiple media sources distributed to multiple locations, spread out all over the complex.
"The HDMI-over-IP transmitter, receiver and control modules incorporate built-in video scaling so we knew the video signal that was being delivered was going to be really high quality on every display screen throughout the complex," he emphasized.
Regarding the project's audio, Zapata installed 25 Niles® ceiling speakers and seven SpeakerCraft® Profile AIM LCR speakers that, as Zapata explained, "deliver such powerful, compelling sound they were ideal for this project's indoor media spaces."
A Furman® F1500-UPS supplies protection against power surges and battery backup in case of outages, vitally important in a state that leads the country in lightning strikes. "I know from past experience the F1500 will ensure years of trouble-free operation," Zapata said.
Two Panamax® power conditioners, the M4320-PRO and the VT4315-PRO, provide additional protection, plus BlueBOLT® remote energy management to monitor energy use, set alerts, program scheduled commands and initiate remote reboots.
Zapata explained that the owners of Altman Glenewinkle Construction were extremely confident the amenities they were providing their residents would give them a distinct advantage in the luxury apartment game.
"This is a multiple property project now and Altman Glenewinkle Construction is so pleased with this installation they are building two exact copies by the end of this year, also in Florida," Zapata concluded. "And all of them will feature the same AV entertainment and control capabilities with ELAN controllers at the helm."
About ELAN
ELAN®, from Nortek Security & Control, develops an award-winning line of whole-house entertainment and control solutions distributed through a comprehensive channel of select dealers throughout the United States, Canada, and countries worldwide. The ELAN 8 update was honored with the "2017 Human Interface Product of the Year" award, and continues to expand its intuitive functionality with security, climate, surveillance and video distribution products and integrations.
About Nortek Security & Control
Nortek Security & Control LLC (NSC) is a global leader in smart connected devices and systems for residential, security, access control, and digital health markets. NSC and its partners have deployed more than 5 million connected systems and over 25 million security and home control sensors and peripherals. Through its family of brands including 2GIG®, ELAN®, Linear®, GoControl®, IntelliVision®, Mighty Mule® and Numera®, NSC designs solutions for security dealers, technology integrators, national telecoms, big box retailers, OEM partners, service providers, and consumers. Headquartered in Carlsbad, California, NSC has over 50 years of innovation and is dedicated to addressing the lifestyle and business needs of millions of customers every day. For further information, visit www.nortekcontrol.com.
Other brand names and product names mentioned herein may be the trademarks, tradenames, service marks or registered trademarks of their respective owners.
Back