Back
New ELAN Home Control System Fixes 'Nearly Unusable' Hodgepodge of Home Electronics
Texas homeowners get the simple, complete smart home they always wanted by tying their existing home systems together through ELAN®.
CARLSBAD, CALIFORNIA, October 8, 2019 — When this model home was built in Southlake, Texas 10 years ago, the developer decked it out with original architecture, high-end furnishings, and every high-tech gadget they could think of. But according to James Westbrook of Home Theater Technologies, a Bravas™ partner, the home automation technologies originally installed were complicated, incompatible, difficult to use, and failed to deliver on home automation's core promise of simplifying daily life. After years of technological frustration, the home's current owners decided it was time to get the experience they always wanted through a new ELAN® Control System.
"These homeowners are living in one of the most beautiful homes I've ever seen, but they struggled to get even the most basic benefits from a nearly unusable collection of disparate electronics systems," Westbrook explained. "When none of the systems can talk to each other or work together, the wireless network provides inadequate coverage, and each system requires its own remote, it makes things harder to use, instead of easier. The homeowners basically needed a PhD in electronics to complete the 10-step process to turn on the TV! Now, using the ELAN Control System, we've made it a one-step process."
The owners had tried working with other integrators over the years, but were consistently given band-aid fixes instead of the complete overhaul that actually delivered the consolidated control they desired. It wasn't until Kellie, the technology expert in the couple, contacted Home Theater Technologies, that she actually received the attention and professional advice she needed to simplify all the home's electronics into a single system and interface.
"This house was sold to us as a 'smart' home, but it simply wasn't very smart," Kellie said. "I had to become an expert on our previous system, and I was always rebooting, replacing components, and even scouring online for parts that were no longer in production. It definitely wasn't making things easier. Everything was segmented into different apps, and some systems weren't integrated at all, such as the irrigation system, so we still had to manage them individually."
In 2019, this type of disconnected, hard-to-use system isn't what comes to mind when people envision their dream smart home. Now that the ELAN Control System ties nearly every sub-system into a single interface, the home is truly "smart." Kellie and her husband can use ELAN to operate and schedule the home's 11 TVs, multi-room audio, security, surveillance cameras, lighting, and irrigation.
"It's so nice to be able to monitor and control all 11 TVs from the ELAN app, so we don't have to walk around the house each night to ensure all the TVs are off," she added. "The ease-of-use was crucial, because we wanted a system simple enough for our in-laws to watch TV or listen to music in their bedrooms without instructions or confusion. They know how to use TV remotes, and with the ELAN remotes, it's as easy as any TV."
In addition to consolidating the interfaces and simplifying the control process, another major benefit of this upgrade is the superior reliability of the ELAN system. Both the owners and integrator agreed the past configuration resulted in constant failures and poor performance, especially since different rooms required different knowledge to operate.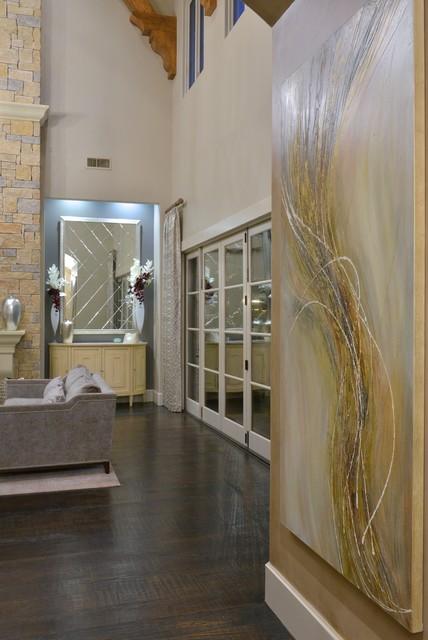 "No matter how tech-savvy a homeowner is, choosing the right platform and integrator is vital for a successful whole home control system," Westbrook said. "With ELAN, what was once a source of constant headaches is now a pleasing experience that consistently functions as expected, offering an improved home environment that is easier to operate."
"When integrators install systems that don't deliver the promised benefits, it gives home control a bad rap," Westbrook added. "Sometimes the decisions come down to pricing, but both buyers and integrators must consider the cost of ownership, not just the cost of installation. Using a less robust system could save money upfront, but the additional cost of service calls, maintenance and user inconvenience will overshadow any original savings."
Previously, every system in the home used infrared remotes that require direct line-of-sight and therefore introduced additional problems and uncertainty. Unfortunately, the home's existing WI-FI network had its own coverage and reliability problems, so Westbrook installed a new Wi-Fi network that covers every corner of the house and ensures the mobile devices and ELAN remotes work every single time.
All of the 7,000 square-foot home's systems are connected to an ELAN System Controller, and the owners have 24/7 access through their mobile phones, several ELAN touchscreen remotes, and a few ELAN in-wall touch panels that double as video intercoms. A Doorbird™ video doorbell lets the owners see who is at the door right in the ELAN app, which also allows viewing of live surveillance camera feeds and security recordings.
Westbrook updated the home's audio capabilities, as well, adding an Autonomic™ server that provides access to today's top streaming services in every room, plus a big boost in audio quality over the previous equipment.
"I didn't know what system I needed, but I'm glad James encouraged me to go with ELAN," Kellie said. "Now I have a single app to access everything, and I can be traveling and still have control. I never intended to become a de facto AV technician just so I could operate my house, and with ELAN, I no longer have to be."
About ELAN
ELAN, from Nortek Security & Control, develops an award-winning line of whole-house entertainment and control solutions distributed through a comprehensive channel of select dealers throughout the United States, Canada, and countries worldwide. The ELAN 8 update was honored with the "2017 Human Interface Product of the Year" award. The new ELAN Intelligent Touch Panels add face recognition and voice control for a truly intelligent home experience. To learn more, visit www.elanhomesystems.com.
About Nortek Security & Control
Nortek Security & Control LLC (NSC) is a global leader in smart connected devices and systems for residential security, smart home automation, access control, and digital health markets. NSC and its partners have deployed more than 5 million connected systems and over 25 million security and home control sensors and peripherals. Through its family of brands including 2GIG®, ELAN®, GoControl®, Linear®, Mighty Mule®, IntelliVision®, and Numera®, NSC designs solutions for security dealers, technology integrators, national telecoms, big box retailers, OEM partners, service providers, and consumers. Headquartered in Carlsbad, California, NSC has over 50 years of innovation and is dedicated to addressing the lifestyle and business needs of millions of customers every day. For further information, visit www.nortekcontrol.com.
Other brand names and product names mentioned herein may be the trademarks, tradenames, service marks or registered trademarks of their respective owners.
Back