Back
Tuesday, December 18, 2018
New ELAN Sensors Add Installation Flexibility to the ELAN Thermostat Line
New ELAN Sensors integrate fully with the ELAN Wi-Fi Thermostats for effortless control of the indoor environment.
CARLSBAD, CALIFORNIA — Further expanding the ELAN® ecosystem with smart attachments that enable seamless configuration for custom installers, Nortek Security & Control (NSC) announced that it is now shipping three new ELAN remote temperature and humidity sensors for its line of thermostats. The all-new EL-TSTAT-SEN-8083, EL-TSTAT-SEN-8051, and EL-TSTAT-SEN-8052 sensors assist in evenly distributing temperature and humidity control throughout the home.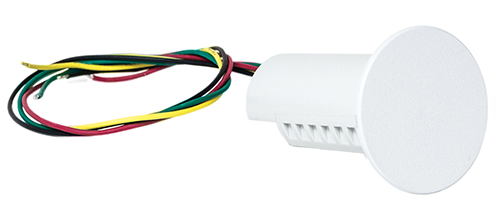 "When paired with the ELAN Wi-Fi Touchscreen Thermostat, these flush-mount sensors enable users to average the temperature of up to four different locations to provide the perfect environment," explained NSC Product Manager Neal Ellsworth. "Embedded with the ELAN beacon, they make installation easier for ELAN dealers, while making temperature control even more seamless for homeowners."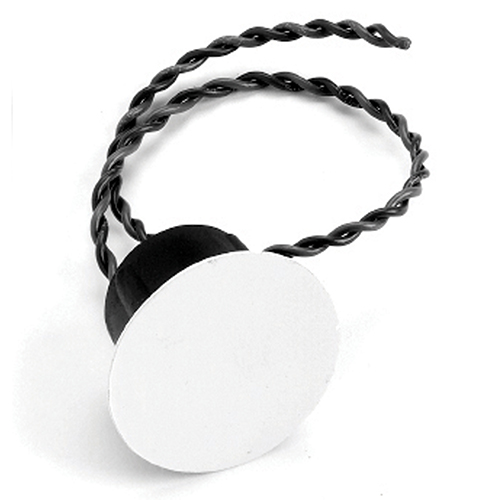 The new sensors include:
EL-TSTAT-SEN-8083: The Indoor Flush Mount Remote Temperature and Humidity Sensor gathers temperature and humidity data, which can be averaged from multiple locations with attached to the EL-TSTAT-8820 thermostat.
EL-TSTAT-SEN-8051: The Indoor Flush Mount Remote Temperature Sensor helps manage hot and cold spots in the home, delivering comfort in the rooms that matter. It can be used to monitor remote temperature and average or override the temperature taken at the EL-TSTAT-8820.
EL-TSTAT-SEN-8052: The Outdoor Remote Temperature Sensor is designed for outdoor or duct installation. Ideal for both residential or light commercial applications, the bracket can be removed to allow probe to be installed in radiant flow applications.
The sensors integrate with the ELAN Wi-Fi Touchscreen Thermostat (EL-TSTAT-8820).
"One-click setup with ELAN Discovery allows installers to quickly configure the thermostats to a new or existing ELAN system," Ellsworth continued. "The Auto-Discover and Auto-Configure feature scans the network for devices –including wireless – and adds devices to the ELAN ecosystem with just one click."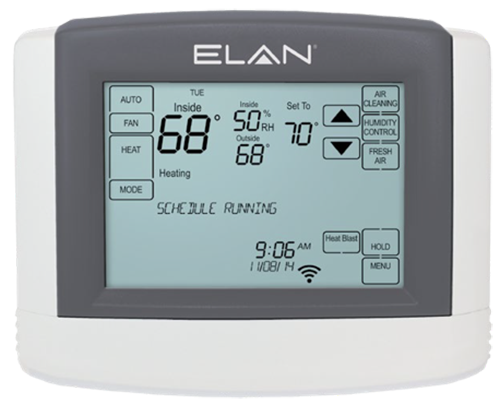 The ELAN Wi-Fi Touchscreen Thermostat (EL-TSTAT-8820) also features ELAN Discovery for one-click setup for easy installation. Enabling remote access and control over Wi-Fi, the unit monitors and controls indoor air quality control, including automatic or manual humidity control, event-based air cleaning, and ventilation.
The EL-TSTAT-8820's large touch screen, which includes an adjustable backlight, displays room temperature, room humidity, temperature settings, and outdoor temperature. A built-in message center provides feedback and instructions, with air filter, humidifier, dehumidifier, fresh air, and HVAC service reminders. The unit also allows for programmable fan control with a fan circulation mode. A progressive recovery feature ensures proper temperature at the start of a program event, while built-in compressor protection effectively prevents against equipment damage. For homeowners, temperature control is easy, with the option to instantly override any scheduled event.
About ELAN
ELAN®, from Nortek Security & Control, develops an award-winning line of whole-house entertainment and control solutions distributed through a comprehensive channel of select dealers throughout the United States, Canada, and countries worldwide. The ELAN 8 update was honored with the "2017 Human Interface Product of the Year" award and continues to expand its intuitive functionality with security, climate, surveillance and video distribution products and integrations.
About Nortek Security & Control
Nortek Security & Control LLC (NSC) is a global leader in smart connected devices and systems for residential, security, access control, and digital health markets. NSC and its partners have deployed more than 4 million connected systems and over 25 million security and home control sensors and peripherals. Through its family of brands including 2GIG®, ELAN®, Linear®, GoControl®, IntelliVision®, Mighty Mule® and Numera®, NSC designs solutions for national telecoms, big box retailers, OEM partners, service providers, security dealers, technology integrators and consumers.
Headquartered in Carlsbad, California, NSC has over 50 years of innovation and is dedicated to addressing the lifestyle and business needs of millions of customers every day. For further information, visit nortekcontrol.com.
Any other brand names and product names mentioned herein may be the trademarks, tradenames, service marks or registered trademarks of their respective owners.
Back