Back
Tuesday, October 31, 2017
Pacific Gate Condominium Development Turns to ELAN and American Home Entertainment for Smart Home Automation
PETALUMA, CALIFORNIA – Leading smart home automation brand ELAN today announced that Pacific Gate by Bosa, the tallest condominium building project in San Diego, California, will include an ELAN home automation system in all 215 of its luxury condominiums. ELAN is partnering with local systems integration firm American Home Entertainment to make intuitive and simple-to-use home automation available to all homebuyers, according to Core Brands Director of Builder Sales Bret Jacob.
"The incorporation of the ELAN automation platform into every unit in the Pacific Gate luxury development project shows the strength of the ELAN platform," Jacob emphasized. "Thanks to our partnership with Ron and his team at American Home Entertainment, all 215 condominiums will come equipped with a basic ELAN package that controls lighting, climate and shades. Upgrade packages will be made available to each homebuyer to enable them to design a home automation solution that meets their individual lifestyle needs."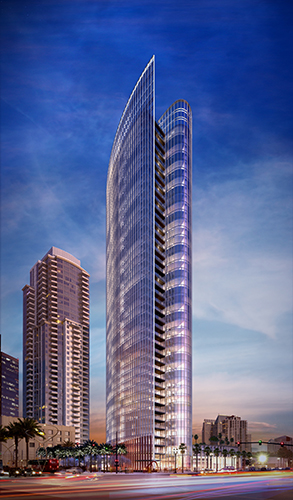 According to American Home Entertainment General Manager Ron Roberge, the Pacific Gate development is the latest in a series of successful projects the integration firm has completed for Bosa. "We've worked with Bosa on eight or nine projects that date back nearly 15 years," Roberge explained. "We've built a solid relationship that is now being extended to San Diego's most exciting smart home residential development to date, and we are proud to partner with ELAN to make it a reality for homebuyers who are looking for a simple way to access all of the benefits of a smart home automation system."
According to Roberge, Bosa selected the ELAN system for Pacific Gate after conducting side by side comparisons with other leading control systems. "Together with ELAN, we demonstrated the clear advantages of the ELAN system and the choice became an easy one for the Bosa team to make," he said. "The fact that the ELAN interface was named the 2017 Human Interface of the year by the Consumer Technology Association really helped to make our case."
The project illustrates opportunities created by the ELAN New Home Program, in which ELAN partners with local system integration firms in offering builders and developers a complete range of benefits including aggressively priced and powerfully featured base packages, outstanding direct manufacturer support and project oversight, and industry-leading model home and incentive programs. The program's benefits to homebuyers are equally strong, led by the award-winning and easiest to learn and use ELAN system which is easily personalized for each individual buyer.
Dealers who want to learn more about the new ELAN New Home Program can contact Bret Jacob by email at bret.jacob@corebrands.com or by phone at (800) 472-5555. ELAN will be exhibiting at the 2018 NAHB International Builder Show in Orlando, Florida (January 9-11, 2018) in Booth #W5877.
Pacific Gate by Bosa is a collection of new, luxury condo residences in Downtown San Diego, and its iconic design is a fitting addition to the area's continually transforming and vibrant scene. With stunning city and waterfront views, residents will enjoy the best of Downtown San Diego and be positioned at the center of it all. As the new premier luxury residences in San Diego, Pacific Gate by Bosa is redefining the city's skyline with its dynamic architecture
A landmark designed to reflect the fluid forms of the shore, Pacific Gate offers more than just a place to call home. Its innovative architecture defines each residence as one of the most stunning and revolutionary developments in San Diego real estate. Pacific Gate offers flawless finishes and unparalleled services and amenities – not before seen in San Diego – all designed to bring the extraordinary to day-to-day living. Downtown residences at Pacific Gate by Bosa are available as two- and three -bedroom condo residences, designed to cater to every need. Residents can enjoy the outdoor pool terrace and poolside cabanas, private boat share, luxury car fleet, and chef concierge services, amongst other amenities usually associated with the world's very finest hotels.
For a hi-res image, click here.
About American Home Entertainment
Founded in 1994, American Home Entertainment (www.aheav.com) is a leading residential and commercial systems integration firm that specializes in designing, installing and maintaining state of the art entertainment, automation, security, networking, access control and gate entry systems for individual homeowners as well as homebuilders and developers. The company serves customers throughout the San Diego, Orange and Los Angeles counties of southern California. For more information, contact Ron Roberge at (858) 430-1701.
About ELAN
ELAN, from Core Brands, develops an award-winning line of whole-house entertainment and control solutions distributed through a comprehensive channel of select dealers throughout the United States, Canada, and countries worldwide. The new ELAN 8 update was honored with the "2017 Human Interface Product of the Year" award from the Consumer Technology Association's Mark of Excellence Award Program Committee at CES 2017.
About Core Brands
Anchored by the ELAN Smart Home Control Platform, Core Brands combines the strengths of its iconic control, audio, power management, connectivity and video distribution brands – ELAN®, SpeakerCraft®, Gefen®, Niles®, Panamax®, Proficient®, Furman®, Sunfire® and Xantech® – to deliver a portfolio of connected home and commercial solutions to its channel partners and end users. For further information, visit www.corebrands.com.
Back