Back
Tuesday, October 30, 2018
San Francisco Giants Pitcher Matt Cain Enjoys a Perfect Game with ELAN
Matt Cain's Nortek Security & Control (NSC) Flagship-Certified system includes control by ELAN®, audio by SpeakerCraft®, Sunfire®, and power conditioning by Panamax®.
PETALUMA, CALIFORNIA — Regarded as a key contributor to the MLB San Francisco Giants' success over the last decade, retired pitcher Matt Cain has two World Series championships under his belt and is a possible first ballot lock for the Hall of Fame. After retiring from baseball in 2017, Cain moved out of the spotlight to the quiet serenity of Paradise Valley, Arizona, where he built a custom 8,300-square foot Southwest-inspired smart home, fully equipped with an ELAN control system designed by JL Automation.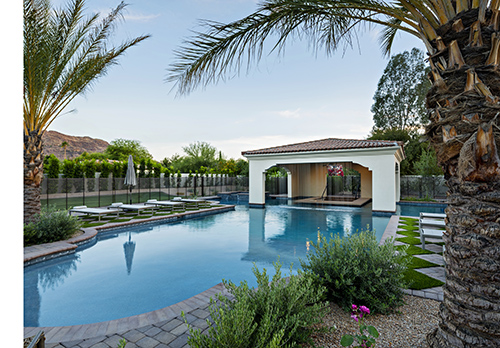 "With a game room, home theater, five bedrooms, six bathrooms, a resort-style pool, an outdoor putting green, and more, the Cain family required an expansive and all-inclusive automation system to give them the instant control they desired," explained JL Automation President Jon Lunt. "ELAN is the best automation system for the job because it enables seamless access to all major subsystems, including audio, video, climate, security and irrigation."
Lunt and his team installed a complete ELAN Flagship-Certified System with an extended product warranty for the Cain family. The smart home infrastructure is anchored by an ELAN gSC10 Controller for whole-home system control and an ELAN g1 Controller dedicated to door intercom and gate automation. An ELAN S1616A multi-room AV controller and ELAN 8x8 HDBaseT 4K HDMI Matrix distribute audio and video throughout the entire home to several Sunfire in-wall subwoofers, SpeakerCraft in-ceiling speakers, and multiple Sony televisions. In the equipment rack, a Panamax M4320-PRO Power Conditioner protects the entire system.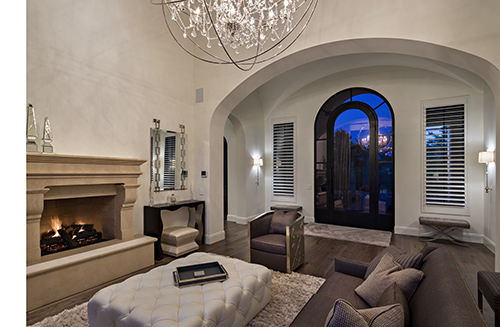 While designing the system, security was of major importance to Cain, who travels frequently and lives with his wife and two young daughters. JL Automation utilized the ELAN Intercom feature at every entrance point, pairing it with automatic door locks, gate openers, and security cameras, which allows Cain to monitor, control the opening and closing of the doors with full feedback from his smartphone. "ELAN is extremely convenient for securing the home," Cain emphasized. "Being able to monitor the doors and the entire property when I'm home or away is a significant benefit. I never have to wonder if I locked the doors. I just know because the information is right in the palm of my hand."
JL Automation installed motion detectors throughout the property that are automatically turned on by ELAN in the evening. If motion is detected, lights will turn on, and Cain will receive a notification on his smartphone. Lunt also configured a particular security event scene that allows the family to hit "Goodnight" on their ELAN touch panel, locking the doors and turning off the televisions, music, and lights.
In addition to full-property surveillance, the Cain's also wanted the system to help them entertain in any space of the home. Controlled and automated by ELAN, JL Automation outfitted the property with a beat-bumping 360-degree audio experience made possible with SpeakerCraft® AIM™ Series 2 in-wall and in-ceiling speakers paired with Sunfire® in-wall subwoofers. "These speakers provide a really great surround-sound experience in every room," Lunt explained. "Any area of the house can become the perfect place for entertaining."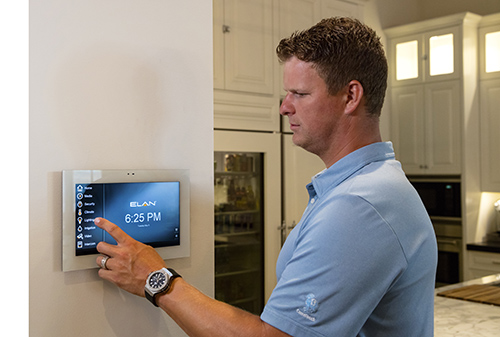 One such space is the dual game room/home theater, which includes an ELAN-controlled Sony VPL-VZ1000ES 4K Short Throw Projector hidden in a custom-made Salamander UST Miami Media Cabinet, and a Severtson Screens Tension Deluxe Motorized 16:9 11" Screen. One button press on an ELAN remote will dim the lights, turn on the projector, and ramp up the sound. "The Cain family really took advantage of ELAN's ability to customize automation to meet their needs," Lunt commented.
According to Cain, the system has seamlessly fit into his family's every day routine. "Even our kids are able to use ELAN to turn on the lights and televisions – it's that intuitive," he said. "And beyond that, it's so reliable. With ELAN, I know that it's going to work every time."
About ELAN
ELAN®, from Nortek Security & Control, develops an award-winning line of whole-house entertainment and control solutions distributed through a comprehensive channel of select dealers throughout the United States, Canada, and countries worldwide. The ELAN 8 update was honored with the "2017 Human Interface Product of the Year" award and continues to expand its intuitive functionality with security, climate, surveillance and video distribution products and integrations.
About Nortek Security & Control
Nortek Security & Control LLC (NSC) is a global leader in smart connected devices and systems for residential, security, access control, and digital health markets. NSC and its partners have deployed more than 4 million connected systems and over 25 million security and home control sensors and peripherals. Through its family of brands including 2GIG®, ELAN®, Linear®, IntelliVision®, GoControl®, Mighty Mule® and Numera®, NSC designs solutions for national telecoms, big box retailers, OEM partners, service providers, security dealers, technology integrators and consumers.
Headquartered in Carlsbad, California, NSC has over 50 years of innovation and is dedicated to addressing the lifestyle and business needs of millions of customers every day. For further information, visit nortekcontrol.com.
Any other brand names and product names mentioned herein may be the trademarks, tradenames, service marks or registered trademarks of their respective owners.
Back