ELAN Surveillance for Enhanced Security and Peace of Mind
Safe and Secure – Newfound Intelligence for Every Home
One tap – you see it all. Front door, back door, patios, driveways and more. Playback recorded video to see what happened and when. At ELAN, we're always looking out for you and our advanced line of surveillance solutions reflects just that. Our new surveillance cameras are available in multiple styles and loaded with intelligent features. All employ our advanced IntelliVision® Analytics, so you get more accurate detection, classification and personalized alerts.
Control from Across the Room – to Across the Globe
When used as part of an ELAN home system, you'll gain instant access to cameras, video doorbells and our Network Video Recorder (NVR) through one powerful interface. Use your smart devices to see when kids arrive home or if someone left a package – from your home office or your office downtown. Our Video Doorbell lets you track who comes and goes and push messages can alert your mobile device no matter where in the world you are.
Adding Smarts to Your Home is Faster than Ever
ELAN Surveillance products are embedded with intelligent technology that makes them the fastest and easiest surveillance solutions to install within our control systems. Our unique auto-discovery features mean faster connections, less hassle and more elegant, seamless solutions for your home.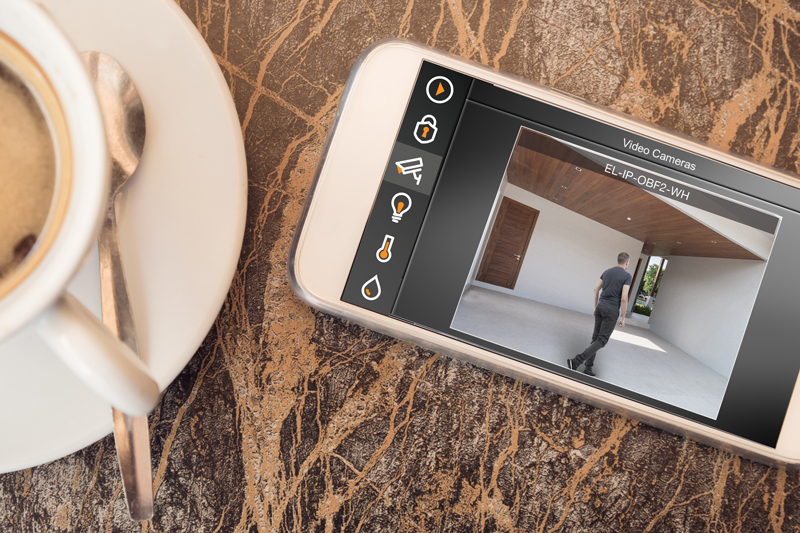 Record and Access Events with Ease
Enjoy seamless recording and playback from connected cameras in our latest ELAN interface. For example, select a camera in your app, and it's one tap to see its recorded stream. Jump between motion events in an easy-to-read list. The world is at your fingertips with the new ELAN Surveillance line.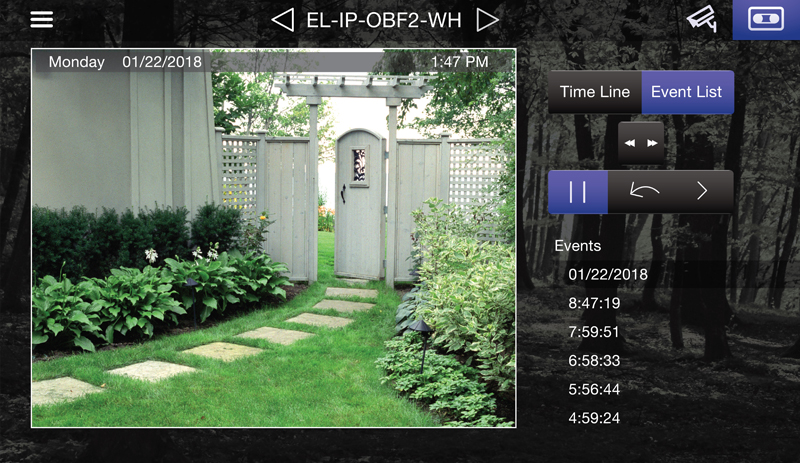 ELAN Surveillance Products to Help You See Your World More Clearly
New! 8-channel NVR, EL-NVR-8CH
Record and playback video over the network, one Click Setup, Auto-Discover, Auto-Configure and a smart security solution for every home.
EL-IP-ODA4-WH and EL-IP-ODA4-BK
Intelligent, IP motorized autofocus 4MP outdoor dome with IR in white or black.
EL-IP-OTA4-WH and EL-IP-OTA4-BK
Intelligent IP motorized autofocus 4MP outdoor turret with IR in white or black.
EL-IP-OBA4-WH and EL-IP-OBA4-BK
IP motorized autofocus 4MP outdoor bullet with IR in white or black.
Surveillance Accessories
Single gang box plates, ceiling mounts and other options available to complete every ELAN surveillance project.